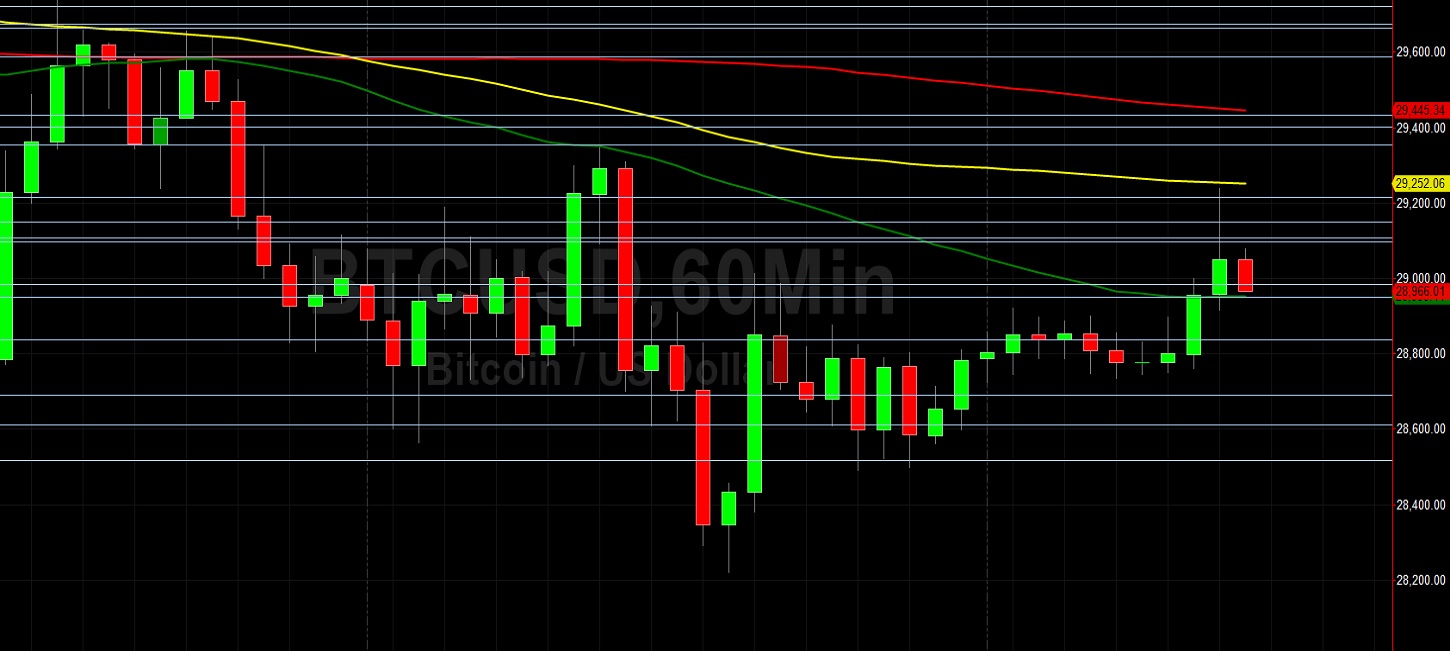 Bitcoin (BTC/USD) glided higher early in the Asian session as the pair continued to orbit the 29000 figure after recently trading as low as the 28000 figure, representing a test of the 76.4% retracement of the appreciating range from 17580 to 61788.45.  Bids lifted BTC/USD higher to test the 100-hour simple moving average for the first time in a few trading sessions.  The recent move to relative lows opened up possible tests of additional short-term technical support around the 27661, 26773, and 26639 levels.  Traders observe that the recent low around the 25338.53 area represented a test of the 23.6% retracement of a historical appreciating range from the 15708.24 level to the 28387 area, and was also above the 24365.11 area, a downside price objective related to selling pressure that emerged around the 48240 area.   
Stops have been elected below many downside price objectives during the ongoing weakness, including the 30435, 29645, 28927, and 28426 areas, downside price objectives related to selling pressure that intensified around the 47469, 47200, and 48240 areas.  If BTC/USD continues to depreciate, traders are eyeing additional downside price objectives around the 25142, 24365, and 21074 areas.  Significant selling pressure hastened around the 31717, 31364, and 31289 areas, upside technical price objectives and retracement levels related to historical buying pressure around the 3858 area.  Traders are observing that the 50-bar MA (4-hourly) is bearishly indicating below the 100-bar MA (4-hourly) and below the 200-bar MA (4-hourly).  Also, the 50-bar MA (hourly) is bearishly indicating below the 100-bar MA (hourly) and below the 200-bar MA (hourly).
Price activity is nearest the 50-bar MA (4-hourly) at 29498.54 and the 50-bar MA (Hourly) at 29070.12.
Technical Support is expected around 24365.11/ 21074.87/ 20495.33 with Stops expected below.
Technical Resistance is expected around 40100.93/ 41570.88/ 43443.32 with Stops expected above.  
On 4-Hourly chart, SlowK is Bullishly above SlowD while MACD is Bearishly below MACDAverage.
On 60-minute chart, SlowK is Bearishly below SlowD while MACD is Bullishly above MACDAverage.                                                                                                                                               
Disclaimer: This trading analysis is provided by a third party, and for informational purposes only. It does not reflect the views of Crypto Daily, nor is it intended to be used as legal, tax, investment, or financial advice.

Sally Ho trades cryptocurrency markets in size for large Asian institutional funds and provides technical analysis of popular trading pairs. Sally was a Macro trader with large Asian, European, and North American banks in Hong Kong and Singapore for several years, focusing on the FX, Metals, Energy, and Derivatives markets. Sally resides in Asia, London, and Switzerland.