We are embedded in a monetary system that is deeply flawed. It is stealing the wealth of the people, but we need it to survive. Is there any way out?
In the acclaimed Sci-Fi film The Matrix, Neo has to choose between the red and blue pills. The blue pill means staying with the relative comfort of the system he has always known, while the red pill will take him down a rabbit hole of perilous truths.
In the film, Morpheus tells Neo:
"You take the blue pill…the story ends, you wake up in your bed and believe whatever you want to believe. You take the red pill…you stay in Wonderland, and I show you how deep the rabbit hole goes."
Our truth
We are all pretty much like Neo in his life before full realisation. However, most of us will remain in the bath of fluid where cables are attached all over the body, transporting the lie serum to every part of our being.
In our case, the serum comes in the form of government edicts that break away huge chunks of our freedom. We are told that it's for our own good, that evil terrorists will exploit these loopholes, and that for the good of society we must give up more of our freedoms.
The serum is also the mainstream media, printing whatever the powerful decide should be the narrative. If the people are scared enough, then new laws can be passed with much less pushback.
The serum is also the tranquilising effect of television or social media. If most of the population are glued to the life of some celebrity or other, then actually looking into how currency comes into being might appear extremely boring in comparison.
Looking into Bitcoin
For many, that red pill moment comes when you start looking into Bitcoin. If you aren't just speculating on the price you want to know how this thing works. You want to find out for yourself if it is a scam or not.
So when you go down the Bitcoin rabbit hole you find that it leads to unimagined depths. You find that you start questioning the system you live in. You find that our monetary system is a total lie and that governments are running Ponzi schemes that need ever-accumulating debt in order to survive.
The lie
Once upon a time, the fiat currency system was backed by gold, and this prevented governments from going over their spending limits. But if you need to wage war, or if you need to do all kinds of other spending, then gold backing is no good.
If you don't have to back every dollar, pound, or yen with gold, then this leaves governments free to print as much currency as they want. As more currency is printed into circulation, it is worth less in the bank accounts of the people.
For example, the US dollar has lost over 96% of its value since the Federal Reserve (a privately owned bank) took over the US banking system in 1913. A dollar now would only be worth 4 cents back then.
Nixon took the dollar off of its gold backing completely in 1971. It was announced by the president at the time that the move would be "temporary". In the chart below, it can be seen how the dollar has devalued since that time.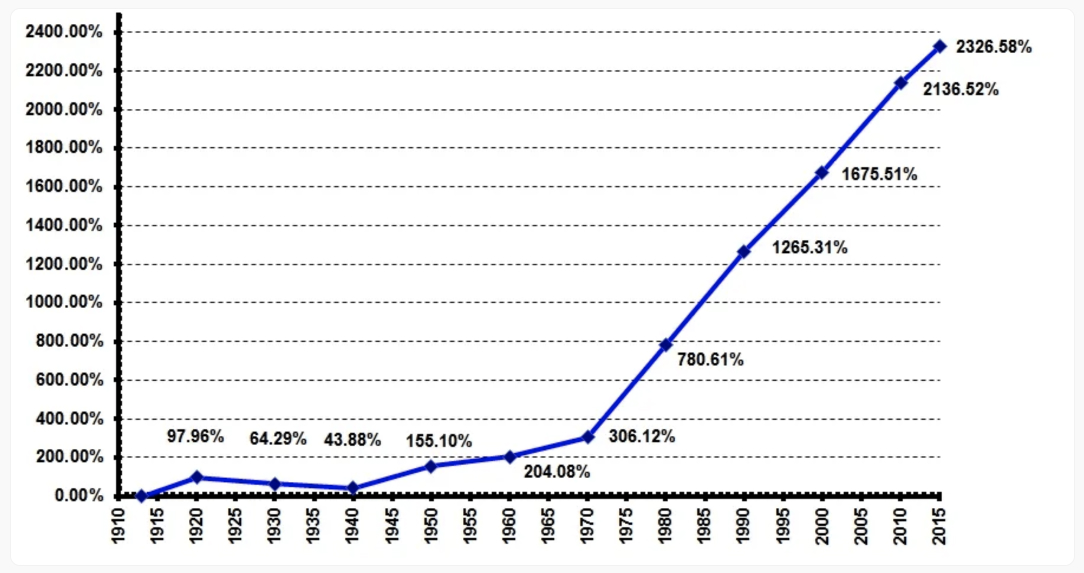 Source: https://buybitcoinworldwide.com/dollar-devaluation/
Opportunity
Taking that red pill allows you to realise that all of this is happening. It gives you the opportunity to put some of your wealth outside of a banking system that could collapse in a not too distant future.
Mainstream media would have us believe that Bitcoin is a scam, that it is a kind of fool's gold. Nobody knows if it will continue to work into the future, given the heavy regulations and restrictions that governments want to impose on it. Satoshi Nakamoto's code has already been battle tested, but the coming war on crypto will test it to the absolute limit. 
A people's currency is anathema to the central banks. They can only continue to operate as long as the lie continues that fiat currencies are the only safe and secure way to transact.
Central bank digital currencies are currently being developed and rolled out across the world. These will strip away every last vestige of monetary freedom from the individual. Take that red pill before it's too late.
Disclaimer: This article is provided for informational purposes only. It is not offered or intended to be used as legal, tax, investment, financial, or other advice.