Ever since I met Brooklyn Earick at AIBC Dubai this past March, the CMO of Rad NFTV, I've been a huge fan of both him as a person and the company he represents.
Brooklyn is a down-to-earth kind of guy with unique experience under his belt, such as time working with NASA and a previous life as a popular electronic music DJ. After spending some time with Brooklyn, it is clear he understands the long-term value blockchain technology brings to the table vs. trying to make a quick buck in the short term.
Rad NFTV is a cutting-edge content streaming platform that utilizes blockchain technology in a way that actually adds value for its users. After talking with Brooklyn in Dubai, I learned he and his team had plans to bring their NFT platform to BSV blockchain, both in terms of tracking and monitoring NFTs issued on other chains, in addition to providing users with an opportunity to mint NFTs with BSV.
Fast forward six months to today, and Rad NFTV has made a lot of progress with its BSV-related plans.
"Rad NFTV is a streaming platform with traditional 2D content, we have VR content, we have holograms and then we have a whole suite of web3 tools for creators," Brooklyn shared.
"So rather than just going to a YouTube or whatever and publishing there, you can actually set your royalties with smart contracts and mint videos, mint pictures, whatever you want, directly into multiple chains, with BSV being a big part of that," he revealed.
"We're looking at BSV as our hard drive where everything we do on any chain is all going to reconcile to BSV. This way there's a record of everything from everywhere. BSV is definitely playing a big role in our overall architecture," he added.
To make this vision a reality, Rad NFTV has been working closely with nChain to bring BSV to their platform via nChain's Kensei solution. Kensei has already been integrated into Rad NFTV's backend, and the teams are currently in the testing process.
"nChain has been very instrumental in us being able to get this across the line. It's been super easy for our engineers to ask questions, get answers and implement solutions," Brooklyn confirmed.
In addition to data reconciliation using BSV via Kensei, Rad NFTV also allows users to mint a typical JPEG-style NFT or video NFT using BSV blockchain tech.
"From the beginning, we have always wanted to be cross-platform and that included essentially everything and BSV was something that got on our radar as an inexpensive, reliable and fast option. And that's why we originally started chatting with nChain and Ayre Ventures," Brooklyn explained.
To provide users with the best experience possible, Rad built a custom interface to mint with BSV on their platform, which will be publicly available in the coming weeks.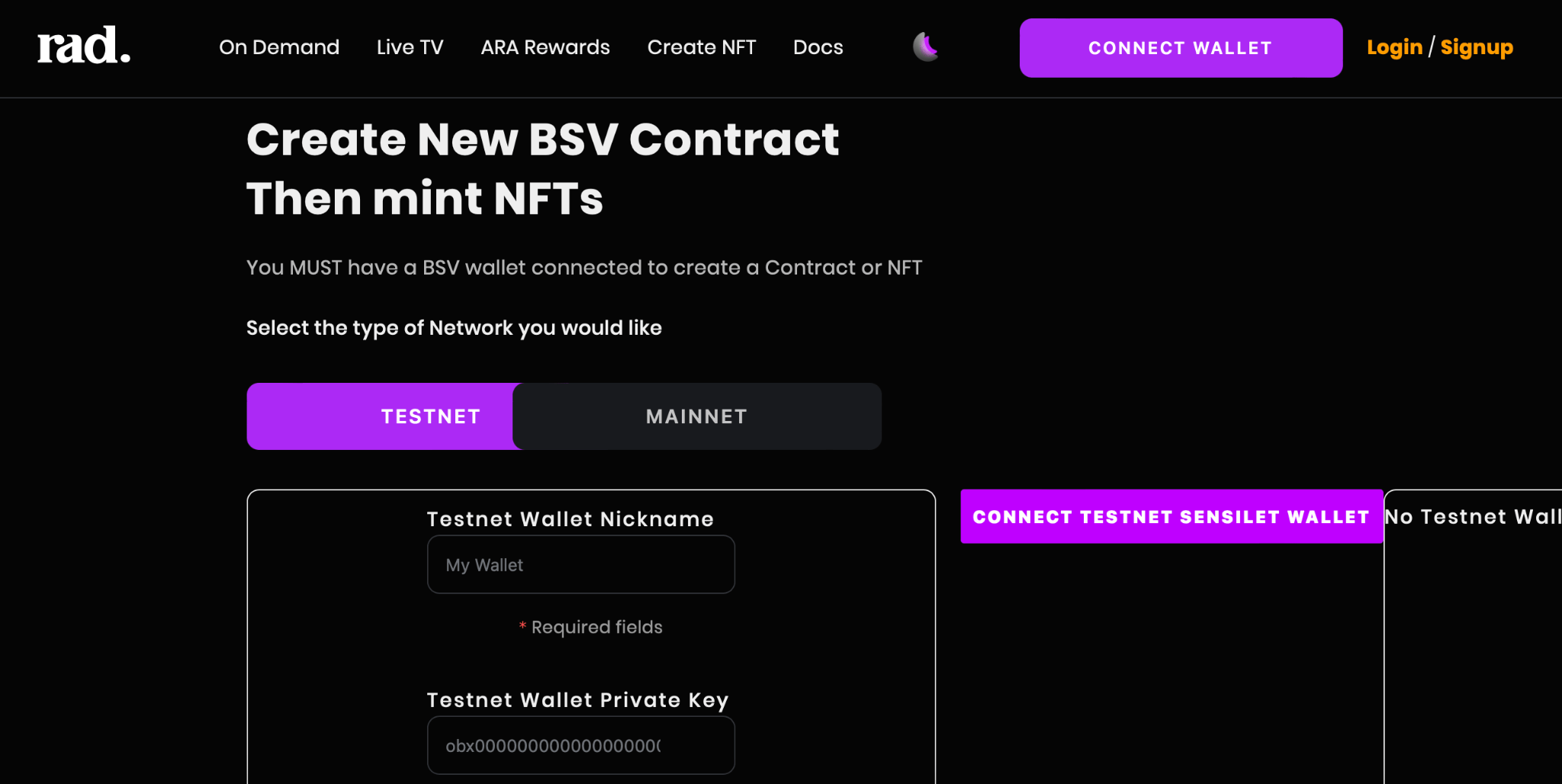 NFTs have certainly been the hype for the past several years, but some folks say the NFT craze is over, and many of the businesses in the space will likely go bust.
When asked for his thoughts on how the NFT space is going in general, Brooklyn admitted the hype of the profile picture NFT is "definitely settling" but pointed out that profile pics have never really been their focus.
"We've always looked at NFTs in general as a way for our users and creators to control their own destiny from a distribution and consumption standpoint," Brooklyn explained. "So we're more focused on the backend side of things. Set your own royalties. Get paid faster etc.," he added.
Watch: The BSV Global Blockchain Convention presentation, Live Streaming & Blockchain
New to Bitcoin? Check out CoinGeek's Bitcoin for Beginners section, the ultimate resource guide to learn more about Bitcoin—as originally envisioned by Satoshi Nakamoto—and blockchain.